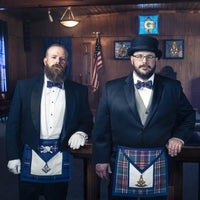 Handcrafted Custom Aprons By a Mason, for a Mason
The Freemason's Univeral Tartan Masonic Apron are each hand made by a Mason. Your apron will be custom made for you with logos and thread color of your choice. Your name and any additional information that you wish can by embroidered under the flap at no additional cost.
Build your Custom Apron in Five easy steps;
Step #1 First chose your backing (Vinyl or Leather) along with your Tartan boarder style, (Wide, Narrow or Narrow with Side Flaps) by clicking on the style that you want.
Step #2 Choosing your Logos -Chose one Logo for the flap and another for the field, by clicking on the logo that you want. (Options will show after you have completed Step #1).
Step #3 Chose your thread color for the logos
Step #4 Chose your accessories – add a belt, add storage pocket etc.
Step #5 Type the info you want embroidered under the flap (no additional charge for this option).
If you have a custom request, please feel free to contact us using the Contact Us page, and we will be pleased to do whatever we can to accomodate your request.